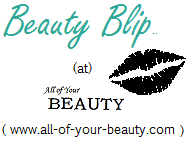 This is a great idea from Ashley from All of your beauty to connect beauty bloggers and readers together. Make sure to check her out and check out all the other blogs linked. Also don't forget to connect yourself! As part of the of the link you must answer a topic question, here's my entry:
Who is your Makeup Muse?
I love love LOVE Nicole Scherzinger's style, personality and makeup. I also admire Kim Kardashian's makeup looks, her makeup artist Mario Dedivanovic is a miracle worker. I love these two ladies looks because they are classy and sexy while still being mysterious at the same time. They both have very similar skin tones and eye colour and hair colour as mine so the makeup that they wear goes great on me as well.
Thanks for reading! Please FOLLOW and COMMENT!