FACT #1

: There are 3 billion women who do NOT look like supermodels
FACT #2

: Marilyn Monroe wore a size 14
FACT #3

: If Barbie were real, she would probably fall over and have to walk on all fours because of her crazy proportions.
FACT #4

: An average woman weighs about 144 lbs and wears between sizes 12-14.
FACT #5

: 1 of every 4 "college aged" women has an
eating disorder
FACT #6
: A 1995 psychological study found
tha
t when a panel of women spen
t
3 minu
tes
looking a
t fashion magazines, i
t
caused 70% of
the
women
to feel depressed,
guilty and shameful.
FACT #7
: Twen
ty years ago models weighed 8% less
than
the average woman. Now,
they weigh 23% less.
FACT #8

: Ancien
t Greek women applied curdle milk on
their face in hopes
to cure acne.
FACT #9

: Ancien
t Greek women applied cucumber juice on freckles in order
to ge
t rid of
them.
FACT #10
: Ancien
t Greek women applied crocodile fa
t on
their wrinkles in hopes of
g
e
t
tin
g
rid of
them.
FACT #11

: Ancien
t Egyp
tians didn'
t jus
t use perfume
to smell good,
they drank i
t as medicine
to help with kidney, lung, in
tes
tinal and liver problems. Bu
t don'
t freak,
they were made of flowers, honey, wine and berries.
FACT #12

: Ancien
t Greek women would bleach their hair with arsenic in hopes of havin blond hair because blonds were few and
they wan
ted
to achieve
the 'exo
tic' look.
FACT #13

: Fish or bird poop face mask anyone? This ritual has been practiced by Japanese women in hopes of a smoother and clearer complexion. It is now offered in high end spas in Japan.
FACT #14

: Ticklish feet? You probably would not be able to have a foot treatment using the Gara Rufa fish, which eats away at your feet, removing dead skin cells in only 15 minutes.
FACT #15

: Want to know how Cleopatra seduced both Julius Caesar and Mark Anthony? She did it with her glowing skin, she got it my using dead sea salt. It worked by cleansing and detoxifying.
FACT #16

: Caviar: Salted and processed fish eggs, usually being sturgeon. Today, in many spas in America, Caviar facials are in demand. Usually ranging about $185 for a 90 minute session. The caviar used is from Switzerland and is frozen and dried. Apparently this facial lifts, fights aging, lessens wrinkles and makes you look younger.
FACT #17

: A facial.... for your butt? In spas in Miami, LA and New York, bu
t
t facials are one of
their mos
t popular services. For only $650
to $850, you can have an hour of bu
t
t work done
to make your behind
tight and smoo
th.
You can also get it scrubbed to heal acne or cellulite. This can be paired with microdermabrasion for a more polished feel.
FACT #18

: Want to have the carpets match the drapes? Now you can wi
th pubic hair colouring. A
brand called Be
t
ty Beau
ty offers colours in blonde, brown, black, ho
t pink, auburn and blue.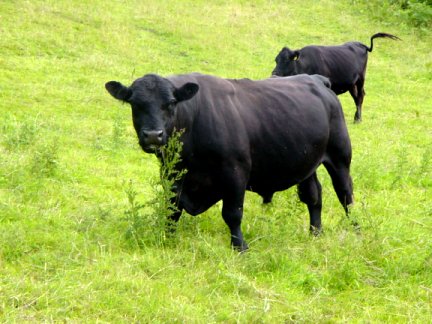 FACT #19

: Have a bad hair day? No produc
ts helping? Well
there's always bull semen condi
tioner! This odd
trea
tmen
t
called "Viara for
the hair" of
ten cos
ts abou
t
around £85 in London. It is composed of the semen of an Aberdeen Angus Bull plus extracts from Katera, a kind of Iranian plant.
The bull semen can add shine and strength to your hair. You just have to massage it into your scalp and leave it for about 30 minutes, before rinsing. Don't worry, it's odourless!
All of
t
hese are
true..... have any of you ven
tured and
tried any of
these
trea
tmen
ts? Would you?
Thanks for reading! Please FOLLOW and COMMENT!