Ah, the Golden Globe awards. I wish I was there. Well I wish I could have actually watched it tonight, however I was unfortunately at work :(
And of course I find myself tonight, admiring all the dresses of these lovely ladies....... check them out...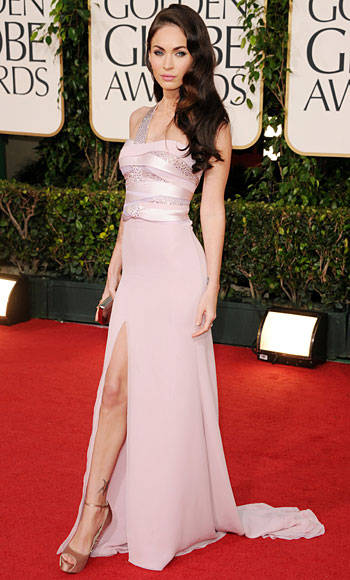 The lovely Megan Fox was wearing a pale pink Giorgio Armani gown. I definitely love what she is wearing, and I would be caught wearing this for sure! What do you think?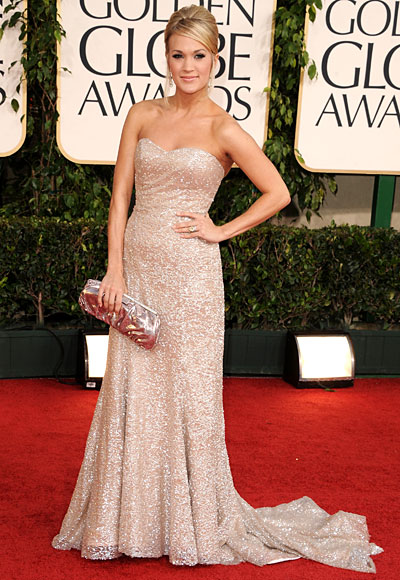 tCountry singer Carrie Underwood was wearing a quart sequin strapless fishtail dress by Badgley Mischka Couture. Definitely another one of my faves! What do you think?
Leigh
ton Meester was sporting a covered up gown from Burberry, with a Louis Vuitton clutch and Jimmy Choo metallic heels. I love it, but somehow reminds me of my grandmothers moo moos... haha what do you think?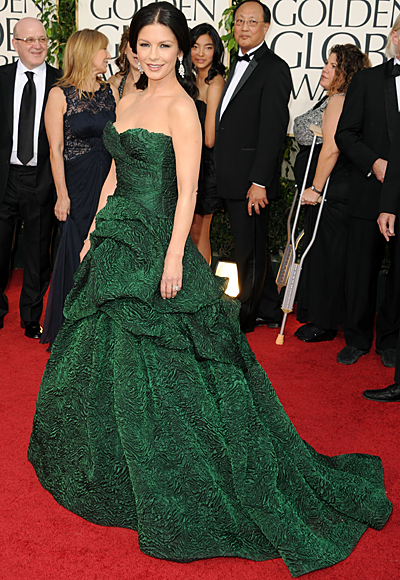 The smashing beauty, Catherine Ze
ta-Jones was dress in a forest green textured gown by Monique Lhuillier. I think she looks great! What do you think?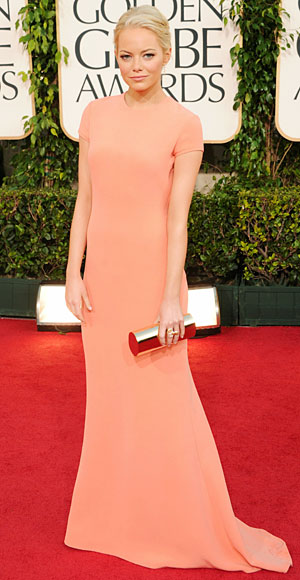 The hilarious and beautiful Emma Stone was wearing a backless, peachy Calvin Klein Collection dress. Honestly, I almost didn't recognize her, what do you think?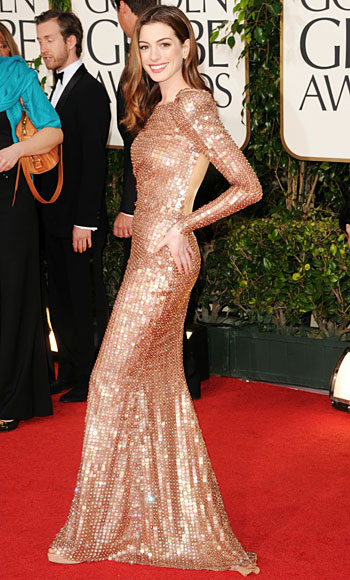 Anne Hathaway was in an amber open backed gown from Giorgio Armani. It was embellished with pailettes and Swarovski crystals. All I have to say is bling bling! Deff love it too, what do you think?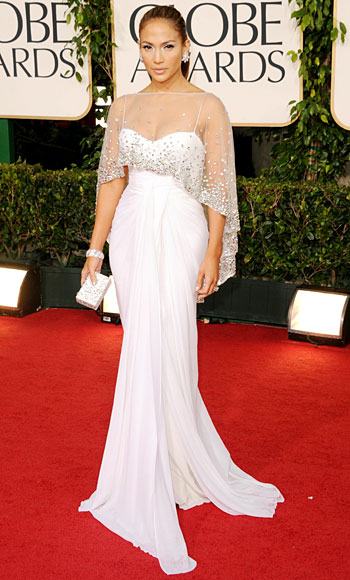 Jennifer Lopez was draped in a white Zuhair Murad gown. I personally think she looks like an angel! What do you think?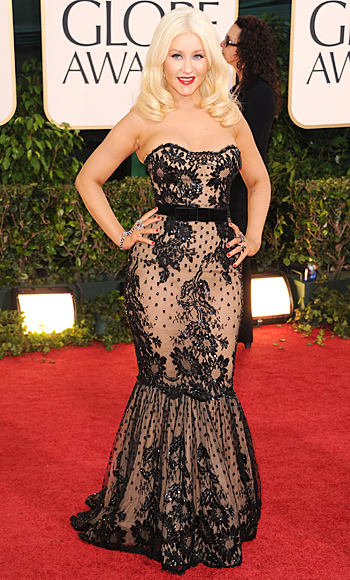 The curvaceous Christina Aguilera was dressed in a sheer black, beaded Zuhair Murad mermaid gown. I love how curvy she is. Super flattering! What do you think?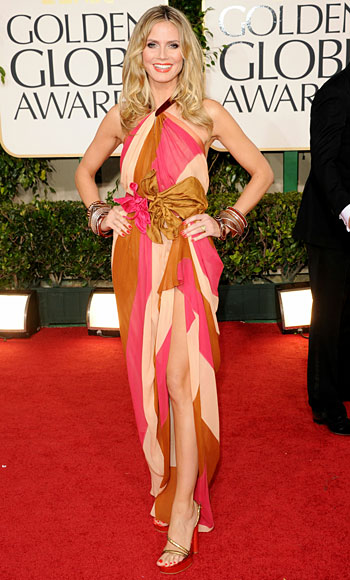 Heidi Klum sported a '70s looking gown. She looks like she just walked off the beach. I love it. Super refreshing, What do you think?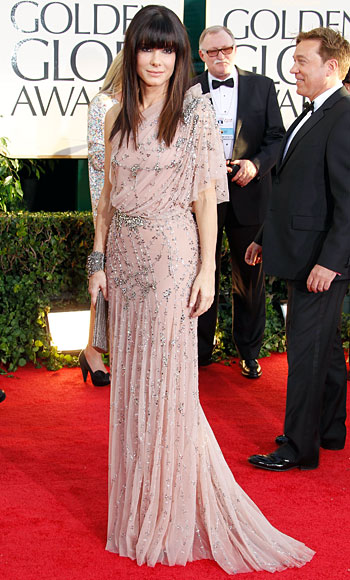 Sandra Bullock showed off her new bold fringed bangs and a rosy beaded Jenny Packham dress. Super classy. What do you think?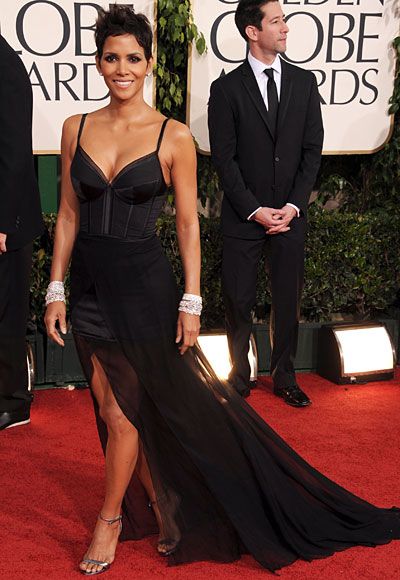 Halle Berry was super sexy in a bustier dress with sheer overlay from Nina Ricci. I would wear this in a heart beat! What do you think?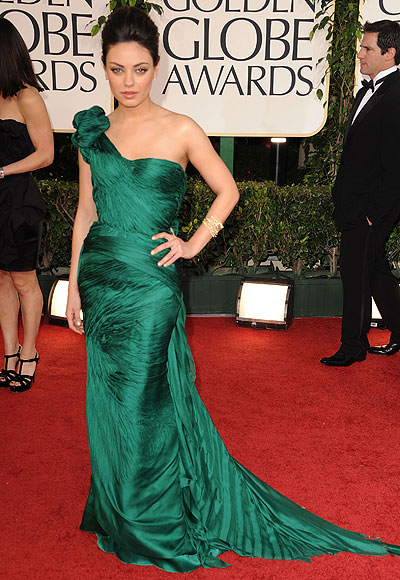 Mila Kunis was dressed in a green one shouldered gown by Vera Wang. Definitely something I would NEVER wear, I don't like it! What do you think?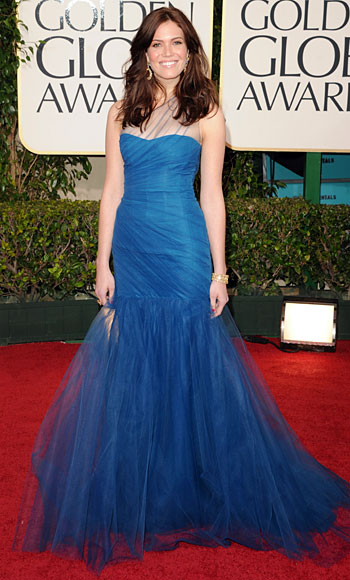 The sweet faced Mandy Moore wore a blue gown in a Grecian style by Monique Lhuillier. I really like this one. What do you think?
Mila Jovovich was in a strappy beige/sandy off the shoulder mermaid style dress. I like how figure complimenting this is. what do you think?
Did you watch the Golden Globe Awards? What did you think? Who do you think was the best dressed? and the worst?